Prepskills Student Spotlight Interview: Kevin (UCLA)
Virtual U.S. College Expo Canada
Saturday, May 1st, 2021
Meet with Student ambassadors, American Universities, Student Athlete,
Admissions & Financing Experts and more!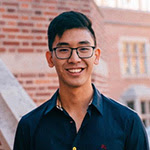 Kevin Tan
Kevin is a recent UCLA Computer Science graduate currently working as a software engineer at the startup Raya. Kevin was given the opportunity to create his own course in 4th year and teach it. It was so popular that there was a waitlist for students to take it. The UCLA faculty were so impressed by the course, they made it a permanent course starting fall 2020. Kevin's private school journey of "finding the right fit" led him from Pickering College to University of Toronto Schools (UTS) and then he transitioned back to Pickering College until grade 11. He then attended Neuchatel College in Switzerland for grade 12 while taking numerous AP exams offered at the college. Kevin was a previous PrepSkills student for both the SSAT and SAT prep. Outside of work, his hobbies include fitness, piano, and gaming.
In this interview, Kevin reveals how his exploratory educational journey successfully led him to UCLA!
Considering U.S. Colleges/Universities? 
Let's navigate the U.S. College Admissions Process together!
Join Prepskills with Host Sam Demma and U.S. College Experts at Virtual US College Expo on Saturday, May 1st from 1:00pm – 5:00pm ET
Meet with U.S. Colleges, inspirational speakers including Rowan Barrett (NBA), Dr. Karyn Gordon (DK Leadership), NCAA, The Common App and more!
See you there on May 1st!
Prepskills & US College Expo Team
P.S. Need support with SSAT/SAT/ACT/Consulting for Private School or U.S. College? Call the Prepskills office at 416.200.7728 for further information, or email info@prepskills.com